Who is Raghav and why do we call him the MTB Wanderer?
I am Raghav and everyone fondly calls me the MTB wanderer because of my multiple achievements over the years on my MTB cycle.
As of today, I am a full-time Workshop Mechanic and Sales and Adventure Leader in Dare2Gear and I have done multiple Expedition, Races and Events like Grand Fundo 100km gold, etc.
My first Cycle: Early stages of MTB Wanderer.
This was a very interesting time in my life, my 8th birthday. My father had bought me a simple cyle with a 20 inches wheel. Although it was a very basic cycle, for me it wasn't any less than a batmobile.
I really went wild in my mind. I began to have thoughts of being Columbus and sometimes Vasco Da Gama too. They were great explorers of their time, now they were my inspiration in life.
As they say, never restrict your imagination this restricts your growth too.
I didn't know this quote back in the day but over a period of time, I came to realise it.
Riding on the wild side.
My cycle was my road to freedom, the freedom to fly just like a bird. Actually, the way I would ride my bike was very closely related to flying.
I was just too happy with life. Probably initially my father was happy to see me this happy, but later he got concerned.
I began riding my bike away from home pretty much too often. Far enough to alarm mine over protecting parents.
I belong to a middle-class family, even today going to seek help from a counsellor is frowned upon.
My parents did that as well for me. They even resorted to scolding, sometimes even hitting me.
They just loved me too much, I was really riding on the wild side. I was really high on life. Poor dad thought I was possessed.
Today when I think back I think I was possessed. My parents tried their level best but eventually, they came to terms with my madness and gave up. I never gave up my bike.
Today I really feel bad that I caused so much distress to them, back in the day. I was too happy to relent to anything else.
Cycling to school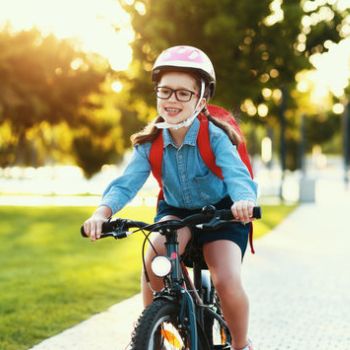 Frankly, I cannot imagine my life without my cycle. Riding my bike came as naturally as walking to me.
I was the only kid who cycled to school. The distance was close to 10 km, as I mentioned earlier cycling came naturally to me. So the distance did not really matter to me.
This went on from class 6th to 12th grade. These were my formative years of cycling which made me tough, and strong and improved my reflexes to a great extent.
HIP HIP Hurray..
I was not really great with my studies. Back in those days, I had grown from a regular cycle to a "HERO JET" 26-inch wheel size.
By now I had earned my nickname "BANDAR" which means Monkey in Hindi. Although I was bad in academics, I excelled in sports.
So I was a favourite student of my sports teacher.
I began playing 2 sports. I was the right-arm medium pace bowler in our cricket team and goalkeeper in the soccer team.
The reason I excelled in two sports is due to my cycling. It helped me develop good stamina and endurance. Rest as they say it's history. So much for my Hip Hip Hurray moment.
Shedding all inhibitions : My first step as MTB Wanderer
One of the best memories I have is related to biking. This was back in the days when I passed 12th grade with 62% marks. Obviously, it called for a huge celebration.
I decided to celebrate it in Raghav style.
I convinced two of my friends to accompany me on a long-distance cycle ride from Lucknow to Kanpur.
The distance was 98 km, it was the longest cycle ride I have ever attempted.
My timid friends backed out at the last moment. I was determined to go either with them or without them.
This ride was not only tough but also dangerous.
As the famous quote suggests Believe you would and you are halfway there.
You may call it suicide. I call it shedding all inhibitions. That's actually what it was for me.
I set out on my own, I did face a lot of trouble but as they say, I had set out on a journey to find my true calling for that I needed to bare my soul. It was tough, it was dangerous but I was tougher and braver than my circumstances.
I completed my feat and came back home a very happy man.
Actually, I was riding on the 7th cloud and back home I had a very different kind of welcome eagerly awaiting my arrival.
I got a beating of a lifetime. My mother would not stop crying my father was fuming with anger. Whatever their reaction might be? They loved me a lot.
That ride actually made me shed my inhibitions. I shed my fear, understood my strength most of all I had broken a major mental barrier I had. Now I was really free of all inhibitions and fear. I was totally a renewed Raghav.
Today I look back I cannot believe it myself. My mother proudly narrates my stories to others today.
It might have been one hell of a task raising me, considering I was such a live wire.
Switching tracks
My father passed away when I was in my second year of graduation. My world collapsed overnight.
I had finally come to ground reality. I had to rethink my life path. Obviously, cycling could not give me money to support my family.
I had to finally get serious in life. I began studying seriously.
After graduation, I got a job as a desktop support engineer. three years later I was certified by Microsoft as a server support Engineer. Moving ahead I got an opportunity to work on a cloud computing project with HCL and IBM in collaboration.
My life had completely changed track.
Getting a Jumpstart in life.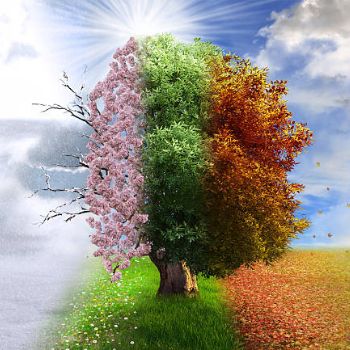 Seasons change. My life changed too. HCL offered me a promotion as a network engineer in Noida.
Here I got to see such amazing blank roads and morning riders. Suddenly my heart felt light.
Everything felt right in life. I was happy again.
as the famous quotes say, when you really want something really bad in life then even heaven bends down to grant it to you. Today I know what that feels like to have your wish come true.
As if that was not all. Life had something else planned for me.
My sister's office was in sector 130 and my office was in sector 18. The distance between the two is 36 km one way.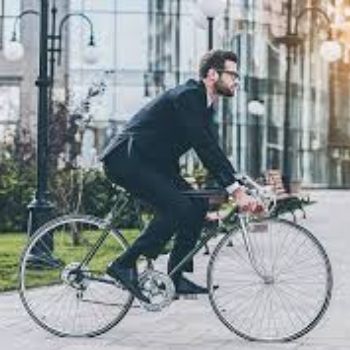 So shuffling between the two in heavy traffic I would take a cab, I would regularly get late. Too much time was wasted on the road. so what do you think I did?
Of course, it was my chal meri Luna moment. I had gained weight and was totally out of practice. Yet I was determined to go for it.
The ground was set I just had to draw my sword, my Hercules Thriller plus. Rest as they say is history.
Life was not easy yet. The first day was horrible. I was covered in sweat, exhausted, and fatigued but my heart was happy.
I knew the comeback journey would not be easy. I finally switched to my dry fit Tee and shorts and later changed to formals in the office.
Here comes Raghav the MTB Wanderer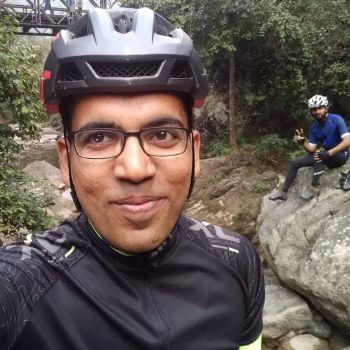 It just so happened that since I was commuting to work by cycle my colleagues began noticing that I come to work in tees and shorts.
They were shocked initially but eventually, they began to encourage me to commute by cycle.
Over a period of time, I shed the excess weight I had piled on over the years.
I regained my stamina and confidence. A year later I began participating in organised races and met a few famous riders as well.
Soon I not only began participating in organised races I won a few too.
Decathlon sponsored most events. So I decided to visit Decathlon . I had a chance to meet good sports enthusiasts like me who came from different educational backgrounds like engineers, accountants, teachers etc.
It was a very inspiring moment when I had the chance to meet Vikas Gupta, Prateek Johri and Anshul Sharma they asked me to attempt DRD, decathlon decided to sponsor.
It was a great opportunity for me but convincing my family was another challenge. My friend Sarvesh said" if you are passionate about something you are fit and people love you for it, what more can you ask for?
Rest as they say is history.
And this is my whole journey as a commuter turn Sponsored XCM( Cross Country Marathon) Rider in Decathlon for next 3 years participated in 3 MTB nationals from Delhi team.