Fauja Singh is a Centenarian British Marathon runner born on 1st April 1911, originally from Beas ,Jalandhar, Punjab.
As they say Faith can move mountains similarly if you believe in yourself nothing is impossible. Its truly amazing to hear that this oldest Marathon Runner who began running at an early age of 81 had difficulty walking. Infact he did not walk at all till he was 5 years old. Talk about late bloomers. His mother truly doted on him as a schild. Even the doctors couldn't figure out why he could not walk, as funny as it gets they couldn't figure out why he could walk either, ironical isn't it.. Fauja Singh says that the world always tried to put limitations on him but he never lost his hope. Its high time we realize that our bodies are different , so are our ways to combat disabilities, its upto you how you groom it . He would be teased by his peers for his weak legs they would call him Danda (stick) for his frail legs. He began to go to the fields with his father to help him in farming and later on he went to school. By the age of 15 he could barely walk a mile. Yet he never stopped trying. His mother never stopped encouraging him , they continued to offer pryaing for his good health. On his 5th birthday when he began to wak his parents distributed Kada Prasad to the entire village. Had he given up to his circumstances he would never have come this far to inspire the world of Marathon runners to continue his feat at 108 years. His secret to longevity is exercise, eat, rest and pray. As of today he is all of 108 and still running strong.  He moved to London at an age of 81 he began walking initially and soon he realized his legs weregeting stronger. He eventually tok up a formal training that was when he participated in his first Marathon The London Marathon in 2000.  According to his coach he runs 26 kms effortlessly but he wanted to attempt the 26 miles Full Marathon that was commendable at his age. Initially it was a shocker but later it tuned out to be a Legendary Feat by Mr. Fauja Singh.
During his career he has he ran with London Marathon in 2000 he was the oldest runner definitely one of the swiftest among the lot because , apart from what is said he is the perfect example of age is just a number and after having come so far we have stopped counting. He was also the signed up  for Adidas shoes for a major advertising campaign,  he was featured alongside with David Beckham, Rugby player Jonny Wilkinson and Boxer Laila Ali, Mohmad Ali's daughter.
On his 93rd Birthday ran in its very first addition of Lahore International Marathon . Only two Indians participated in the event. One of them was Fauja Singh himself all of 94 years old and the other runners was Ashish Roy he was 72 years old both ran this event in Lahore Pakisthan in 2003.
Fauja Singh won a cash prize of $5,000 for his personal best running in 10 km category.
He immediately donated the entire cash prize to a local Charity.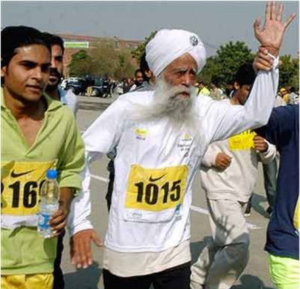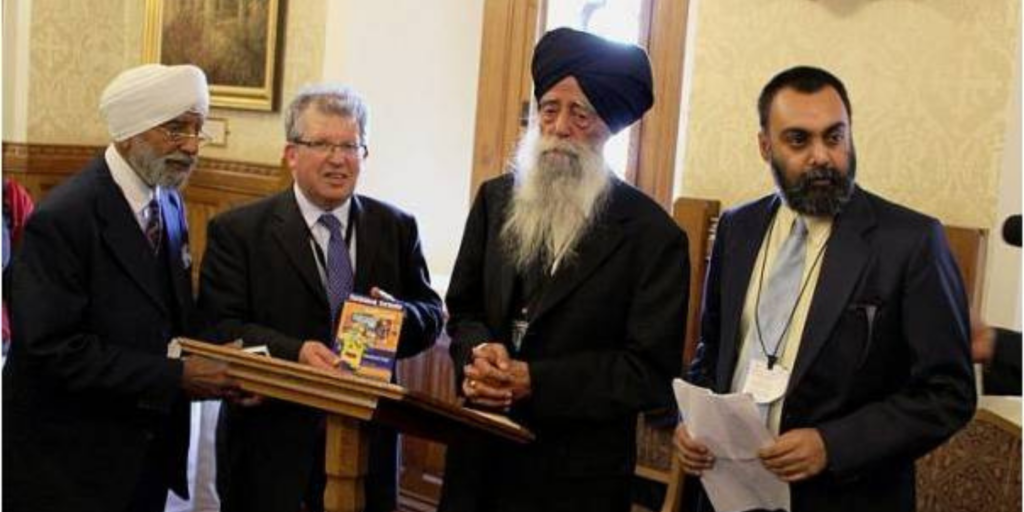 This year's oldest London Marathon runner, Fauja Singh, celebrates his 93rd birthday as he runs across the Millennium Bridge in London. This will be the fifth time the age-defying athlete has run the race to raise money for premature baby charity, BLISS, and the second time he has been the oldest competitor in the event.
The biography of 100-year old Fauja Singh named Turboned Tornado written by Khushwant Singh . Judge (retd) Sir Mota Singh in the white turban receiving the first copy of his book after its launch. This book was launched by Lord Anthony Young in Atlee Room.