Description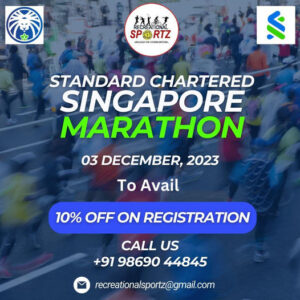 Unleash Your Inner Champion at the Singapore Marathon
Gear up for an incredible adventure with our Singapore Marathon Trip! Experience the thrill of participating in one of the world's most prestigious marathons while exploring the vibrant city of Singapore. With unbeatable perks and an unforgettable 5-night, 4-day trip, this is an opportunity you don't want to miss!
Embark on an Unforgettable Journey through the Lion City
Immerse yourself in the wonders of Singapore, a city that effortlessly blends modern sophistication with rich cultural heritage. Our trip includes exclusive guided tours to iconic landmarks such as the breathtaking Gardens by the Bay, the stunning Marina Bay Sands, and the captivating Singapore Botanic Gardens. Explore the vibrant streets of Little India, Chinatown, and Arab Street, where you can indulge in mouthwatering local cuisines and shop for unique souvenirs.
Experience the Ultimate Running Adventure
Take part in the Singapore Marathon, a world-class event attracting elite athletes and passionate runners from across the globe. With its scenic routes and electric atmosphere, the marathon offers an unrivalled experience for both seasoned runners and beginners. Lace-up your running shoes and conquer the challenging but thrilling course, surrounded by breathtaking views of Singapore's iconic skyline and picturesque waterfront. This is your chance to push your limits and achieve greatness!
Unmatched Comfort and Support Throughout the Trip
We are committed to ensuring that your marathon journey is comfortable, stress-free, and truly remarkable. From the moment you arrive in Singapore to the time you cross the finish line, we'll take care of all the logistics, including accommodation in premium hotels, transportation, and race registration. Our knowledgeable and friendly team will be there every step of the way, providing assistance, support, and insider tips to make your experience truly unforgettable.