Description

Introduction:
Mt Kilimanjaro is located in a country home to several national parks & a huge array of biodiversity, Tanzania. Thisaugust mountain (or jebel
as they call it there) rises magnificently out of savannah to become the highest in the continent of Africa, & the only African peak to be blanketed in snow.
Marangu route
is the oldest & most established route. The route offers dormitory huts instead of camping.
Despite being a dormant volcano, Kilimanjaro offers hikers a miscellany of heavenly landscapes. Beginning with the cultivated zone which gradually progresses to rainforested regions, the ecosystem is then dominated by giant heather, wild grasses & a rocky trail. The adrenaline-triggering adventurous moorland later gives way to a highland desert that provides a spectacular view of the vast icy glaciers that cling to the peak. What lies ahead is called the arctic Zone, the aesthetic frozen ice crossing which one reaches the Uhuru peak of Mt Kilimanjaro, dubbed correctly as the 'Roof of Africa'.
Dotted here & there with streams clear as crystal & small flowers pretty as a picture, Kilimanjaro is, veritably, an abode for mountaineers. And throughout the entire expedition to the summit, Tanzanian porters become joyful companions offering to share the quirky ways & captivating stories of their indigenous cultures, & of course, the infamous '
Hakuna Matata'
.
Overview
REGION – Tanzania, Africa.
ALTITUDE – 5,895m.
GRADE – Moderate
TYPE – Trek
BEST TIME TO VISIT – Apr-May & Sept – Nov.
DURATION – 8 Days.
Itinerary:
Day 1: Arrival at Kilimanjaro Airport and Transfer to Hotel in Moshi.
Day 2: Marangu Gate (1,800m/5,905ft) to Mandara Hut.
Day 3: Mandara Hut (2,743m/9,000ft) to Horombo Hut (3,720m/12,200ft)Elevation Gain: 977 meters, 3,200 feet.
Day 4: Horombo Hut to Mawenzi Hut (4,600m/15,100ft) to Horombo Hut.Elevation Gain & Loss: 880 meters, 2,900 feet.
Day 5 : Horombo Hut to Kibo Hut (4,750m/15,580ft) Elevation Gain: 1,030meters, 3,380 feet.
Day 6: Kibo Hut to Summit (5,895m/19,340ft) to Horombo Hut Elevation Gain:1,145 meters, 3,760 feet Elevation Loss: 2,175 meters,7,140 feet.
Day 7: Horombo Hut to Marangu Gate (1,800m/5,905ft) Elevation Loss: 1,920meters, 6,295 feet.
Day 8: Fly back
Overview:
Trip Inclusions:
Airport transfers
Accommodation at hotel With Breakfast included
Park fees for all the days during Trekking
Entry fees
3 Meals a day while on the Mountain (Breakfast, Lunch & Dinner)
Salary for Guides, Cook and Porters
Transport from Hotel to Marangugate/Marangu Gate to the Hotel after trekking
Oxygen Cylinder throughout theexpedition
Pulse Oximeter will be available for all days on the mountain for your health checkup.
Hut fees for all the days during Trekking
Rescue Fees
Professional, experienced, mountainguides
Senior Mountain Team Leader
Trip Exclusions:
International flights
Any extra day while on MountainVisa fee & formalities
Clothing & equipment
Lunch & Dinner while in Hotel
Single room supplement at Hotel
Personal Expenses (e.g. laundry, telephone,beverages, etc.)
Personal insurance
Tips to Staff
Anything not mentioned in inclusions of the package.
Packing List:
Solid Hiking Boots
Sun Glasses
Day Pack
Head torch
1 liter water bottles 2
Thermos, sleeping bag
Water/Wind proof Jacket
Water/Wind proof Pants
Water/Wind proof Mittens or Gloves
1 large duffel bag
2 pairs synthetic warm weather trekking socks
4 pairs of heavier synthetic or wool-blend socks
2pairs Thermals
Warm pants
Fleece Top & Bottom
2 pairs shorts/Pants for Hiking
2 pairs of long or short sleeve shirts for the trail
Mid-Layer Top
Warm Hat, Balaclava, Sun hat
Lightweight Gloves
Waterproof breathable Gaiters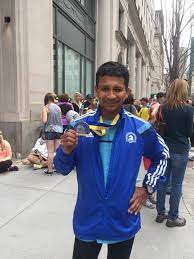 About your Trek Leader:
Lt. Col RomilBarthwal (Retd)
– Maroon Beretofficer
– NDA, IIT KGP, IIM LAlumni
– Mt Everest teamleader & summiteer
– Boston Marathoner
– Half Iron Manpodium finisher
– Ultra Cyclist SuperRandonneur
– La Ultra 111kmNon-Ladakhi recordholder
ABOUT THE TREK LEADER
About the Trek leader
We